Cargo Van Rentals
When you have belongings to get from point A to point B, don't waste time making multiple car trips — and don't waste money renting a truck. A cargo van rental from EZ Rent A Van in San Diego is an efficient, affordable alternative. Rent one today to move your freshman off to college, or use one to haul your wedding booty home from the reception hall. Contact us at (760) 846-6223 today to find the moving van that fits your needs.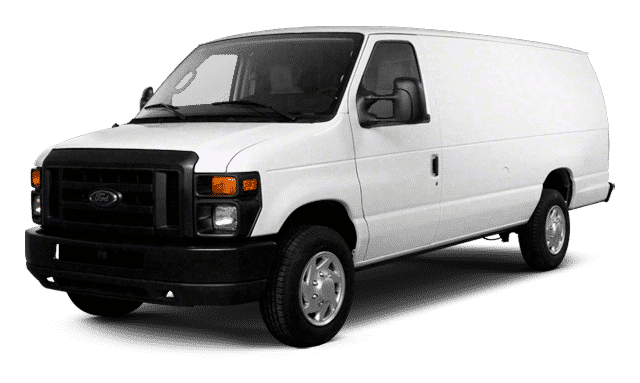 Ford E-250 or similar
Number of Passengers: 2
Doors: 2
Vehicle Length: 10 ft
Transmission: Automatic
Stereo: AM/FM w/ CD player
A/C, Power windows & locks
Get a Quote
Contact Us
Keep Your Stuff Together on Your Next Group Outing
We have been the San Diego area's van rental specialist since 2006, when we set out to offer groups a convenient way to travel together. After all, most big-name car rental agencies only have a few vans in their fleets. Although passenger and sprinter vans are the primary draw, our moving van rental options have also been popular among sports teams, church mission groups, and others who aren't just transporting people.
Team members can ride in EZ's comfortable 12- or 15-passenger vans, for example, bonding as they discuss strategy on the way to their games, while the equipment manager follows in a spacious cargo van carrying the gear. And no helmets left behind means a worry-free, focused coaching staff. (They might be even more relaxed in a coaches-only minivan. Just saying.)
And if your next mission trip to Mexico involves taking supplies to stock that newly built health center or bringing backpacks to students at the recently reopened school, a moving van rental is the most cost-effective way to get donations there.
Superior Customer Service & Moving Van Rentals
We have locations throughout San Diego County, including near the beach and in Carlsbad, Chula Vista, Escondido, Oceanside, and San Marcos. And since customer service is a priority, we offer free delivery just about anywhere in the area. We can even meet you at the airport to make sure your trip starts smoothly.
EZ Rent A Van works hard to earn your repeat business, and we're gathering reviews to share stories from our satisfied customers. Call the friendly staff in our San Diego office at (760) 846-6223 today to discuss your cargo van rental needs, or make a reservation online. And don't forget to check out our current specials to ensure you get the best rate!